If you are looking for an Australian made oven, InAlto oven might be the one for you. InAlto ovens are designed with the guidance of a leading European design house and famous Melbourne-based Chef Andreas Papadakis (worked as a Senior Chef at Vue de Monde, then opened his own award-winning Italian restaurant Tipo Oo and Osteria Ilaria). They aim to offer products that focus on functionality with European aesthetics and affordability.
The name is not as popular as its multinational competitor brands. Not many people bought the oven because of the 'unknown'. But how is it actually compared with its competitors? Let's find out.
InAlto 90cm Dual Fuel Upright Cooker RU9EGB
This is an electric powered oven with 112 liters capacity and a gas-powered cooktop. There are 5 burners and 9 oven functions: Conventional, Fan-forced, Fan Assist, Lower Element, Grill, Full Grill, Full Grill with Fan, Defrost and Light. Twin fans, which enable you to pre-heat quickly.
When you purchase this freestanding oven, you will get enamelled baking tray, safety shelves, rotisserie, LPG conversion kit and LPG Test Point.
Unlike some other freestanding ovens that use knob for timer, this one uses LED programmable timer.
With the triple glazed door, you do not need to worry about touching the oven door.
It comes with 2 years manufacturer's warranty. According to the review found, the purchaser was happy with the after-purchase support from the manufacturer.
In terms of the price, this dual fuel cooker is a bit more expensive than this Westinghouse's 90 cm dual fuel cooker which uses a knob for the timer, but cheaper than Westinghouse's 90 cm dual fuel cooker with LED timer.
InAlto 90cm Induction Upright Cooker RU9EIB
This seems to be the cheapest brand new induction upright cooker. Other induction freestanding cooker such as Fisher & Paykel is almost double the price.
Purchasers were happy with this great value induction cooker. It is still working well even after 2 years. It heats quickly.
You will find nine functions in this oven: Conventional, Forced Fans, Fan Helps, Bottom Element, Grills, Full Grills, A grill complete with a fan, melting ice to light.
InAlto 60cm Electric Oven IO60XL5M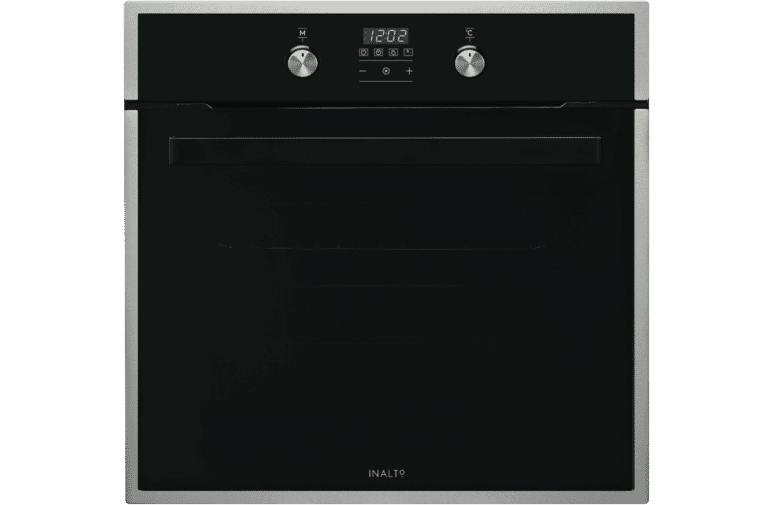 This modern and classy oven design with black glass and stainless steel finish, is perfect for any kitchen. It has 5 cooking functions: Fan-forced, Grill, Grill with Fan, Defrost and Light with 85L gross capacity and 5 shelf positions.
You don't need to worry touching the door when it is cooking, as this is triple-glazed and designed to stay cool.
It is controlled by push pull knobs, and has up to 120 minute minder timer.
It comes with 2 year manufacturer warranty.
Unfortunately there is no purchaser review found for this model.
In terms of the price, this oven is cheaper than most other electricity ovens such as Technika, Westinghouse, Bosch, etc.
Although it has the same price as this Chef electric oven, InAlto IO60XL5M offers more cooking functions. That Chef electric oven does not have Grill with Fan, and Light function.
I can say that this oven is a good value for money oven. It is a pity that this brand is not marketed well enough. Or maybe the colour of all-black makes this oven not so popular.
InAlto 60cm Electric Oven IO60XL5T
This oven has a similar feature as the one mentioned above (IO60XL5M). The only difference is this comes with a programmable timer (LED) instead of a knob.
InAlto 60cm Double Oven IDO68S
This electric-powered wall oven will suit anyone who loves to bake or grill. It has a capacity of 102L (60 litre + 42 litre). You can choose any of the 4 functions of upper oven: Top + Bottom element (bake), Bottom Element (Pastry), Top Element and Grill. For the lower oven, you can choose any of the 8 functions: Light, Defrost, Bake, Fan, Half Grill, Grill, Grill and Fan, Bottom Element + Fan.
The temperature is set by push-pull knobs, but for the timer, it uses programmable LED.
Like other InAlto ovens, it has triple-glazed removable door, which makes it cool so you do not get feel the heat when you touch the door.
If you are looking for a double oven with many functions, this oven might suit you. But if you prefer something cheaper from a more well-known brand, I would choose this double oven.
InAlto Inbuilt Microwave Oven MC25BF
Unfortunately no purchaser review is found for this inbuilt microwave oven.