Vented dryer, condenser dryer, heat pump dryer…which one should you choose?
We have researched and compiled a list of the best dryers in Australia, based on its value for money, energy rating, customer reviews, and features.
Best overall dryer Australia: LG 8kg Heat Pump Dryer
Best clothes dryer Australia under $500: Electrolux 6kg Sensor Dryer
Best clothes dryer Australia under $400: Haier 4kg Sensor Dryer
Best vented dryer Australia: Electrolux 6kg Sensor Dryer
Best condenser dryer Australia: Fisher & Paykel 8kg Condenser Dryer
Best heat pump dryer Australia: LG 8kg Heat Pump Dryer
Most energy efficient dryer: Miele dryer (10 star rating). LG 8kg Heat Pump Dryer (9 star rating)
Best dryer for apartments in Australia: Electrolux 7.5kg-4.5kg Combo Washer Dryer
Best Overall Dryer Australia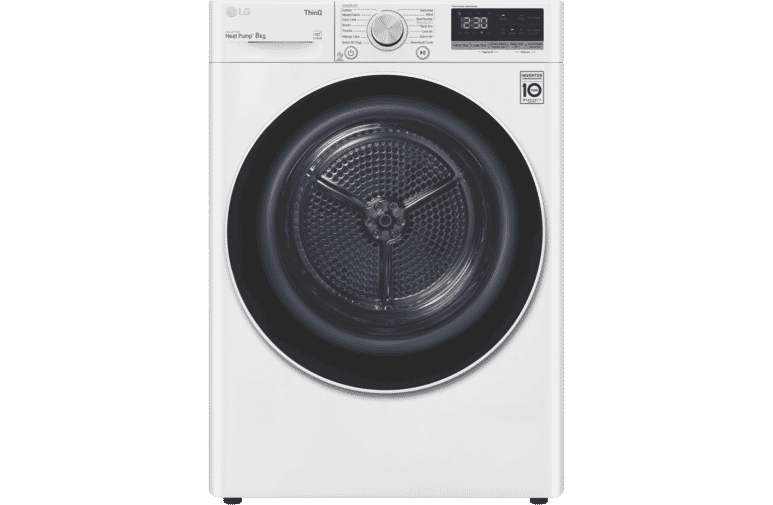 This is a super-efficient dryer, which generates and re-uses hot air throughout the cycle. No wonder it is rated 9 stars for its energy consumption, saving you from electricity bills. The dryer also has sensors that monitor heat exchange, moisture, and air temperature, so it automatically controls the drying time and stops the cycle once your clothes are dry. If you are in a hurry, you can choose Turbo mode.
Not only that, you won't need to clean the lint every time. This dryer automatically cleans the condenser at each drying cycle to remove lint and allergens.
With LG ThinQ app, you can monitor the progress of the cycle using your smartphone. Avoid fabric shrinkage and creasing by selecting a low heat setting on the dryer. Or choose Allergy Care to remove dust and mites.
You will also get a stacking kit so you can put the dryer on top of LG front load washing machine. And also a drying rack where you can put shoes or backpacks on.
This dryer receives excellent positive customer reviews, with average rating of 4.8 out of 5 according to Google.
Best clothes dryer Australia under $500 and Best Vented Dryer Australia
Compared to other dryers under $500, this dryer is certainly the best. No wonder it is a best-seller dryer under $500. It has an excellent average customer rating: 4.4 out of 5 according to Google.
You can put 6kg of clothes. And it is equipped with SensorDry technology, which gently and precisely cares your garments, without overdrying. It also has Efficient Reverse Tumbling Action, which alternates from clockwise to anti-clockwise to reduce clothes tangling and bunching, resulting in quicker and even dry. There is also an option to dry your garment in 40 minutes with its Fast 40 program.
This dryer has 10 programs in total: Mixed, Cottons, Delicates, Fast 40, Bedding, Synthetics, Refresh, Time Dry 30, Time Dry 60, and Time Dry 90. It also has 3 dryness level: Extra, Iron Dry, and Cupboard Dry, with 4 different temperature settings. It gives many more options than other dryers under $500.
All of the dryer under $500 are not energy efficient. They either have 1.5 star or 2-star energy rating. This dryer has 2-star energy rating.
Best clothes dryer Australia under $400
This tumble dryer is the best selling budget dryer under $400. One of the cheapest dryers on the market, with great purchaser satisfaction. It gets 4.4 out of 5 on average according to Google.
It has sensors to work out how long it takes to get the clothes dry. With the reverse tumbling action, it ensures garments don't twist or tangle.
Best condenser dryer Australia
Fisher & Paykel 8kg Condenser Dryer
Amongst other condenser dryers, this dryer has the best customer ratings.
It has auto-sensing detects moisture level. And as a condenser dryer, the condensation is gathered in a tank so no need to worry for external venting. It is a healthier choice for people with allergic.
It also comes with a drying rack.
Best dryer for apartments
Electrolux 7.5kg-4.5kg Combo Washer Dryer
You might not have a space to put both of washing machine and dryer in your apartment. Hence a combo of washer dryer would be your solution.
Even though the price is lower than other combo washer dryers, it has better average customer ratings.
With maximum spin speed of 1200 rpm, your clothes can be dry even before you start the dryer. With 4 star energy rating, and 4.5 star water rating, you would save more on the water and electricity bills.
You can also add clothes after you start the wash, in case you have forgotten items.
How To Choose A Dryer
A dryer is a tool that works to dry something. Usually, people use dryers to dry their clothes. Machines that carry this new technology can help you in your daily activities. Dryers that are present make you easier and faster with work. What can you do to choose the right drying machine? You can consider how to choose the right dryer next to get the machine that suits what you need.
Choose a Gas or Electric Dryer According to the Conditions
Dryers consist of two types based on the fuel used. There are gas dryers and electric dryers that you can use according to your ability to provide fuel. Gas dryers do have a higher price than electric dryers, but gas dryers are far more efficient in everyday use. So, you can consider choosing a gas dryer if you have a gas connection around the residence.
While electric dryers are cheaper than gas dryers. However, electric dryers usually require twice the power of ordinary household currents so they are more energy-intensive. You will pay more for your electricity bill if you use a dryer that uses electricity. But if you want to buy a cheap dryer, you can choose to buy an electric dryer that comes in a variety of features.
Calculate Costs Needed
You have to prepare a special fee if you want to buy a dryer. Set aside your income specifically to buy the dryer you want. There are many choices of drying machines that are present in various brands that would make it easier for you to choose a dryer that is priced according to the original plan.
Remember, do not buy a dryer that is considered too expensive. Buying household appliances beyond your financial capacity will make your financial planning a mess. You can choose a dryer machine at an affordable price following the expenditure plan.
Choose Energy Saving
There are now many more energy-efficient household appliances. By choosing a machine that is energy efficient, you can use more efficient equipment. Your money will be safer because an energy-efficient machine will not cost you money to pay for the energy fuel used. Energy consumption per year can be saved with machines that are Energy Star certified.
In addition to saving costs, choosing an energy-efficient drying machine also means that you participate in environmental conservation efforts. You don't need to take more energy because the engine only requires less fuel. The energy that comes from nature will be more awake and can be used in a longer period.
Pay Attention to the Features Provided
Each series of drying machines released by a company usually has different features. To be able to get features that suit your needs, you can pay attention to features in product specifications before deciding to buy. Don't just stick to one product. You can compare several products that are worthy of your consideration so that you can decide which machine has the best features to your liking.
The feature you can choose for example is a humidity sensor that works to end overdrying so that your clothes are not damaged. Then the silencer feature that can reduce noise during the drying process can make it stay comfortable near the machine. A brightly lit control panel feature is very important to facilitate your work and a drum lamp feature that can help you find lost little laundry.
Find a Dryer With NFS Certification
Why should you choose a dryer with NSF certification? If you prioritize cleanliness and health, the dryer you will buy must have an NFS certificate. An NSF certified dryer can keep your laundry hygienic because NSF sets certain standards for testing and certifying products for public health.
For energy use, drying machines with NFS certification might be more numerous because the machines also run a sanitation cycle. But your laundry will be free of germs and bacteria that can nest in the laundry, especially on underwear or sheets. You can avoid various diseases with a drying machine like this. That means you can live healthier and do not need to go to the doctor.
Choose an Attractive Design
Every company that launches the dryer will try to present design as attractive as possible. Therefore, you can choose a dryer with a design of your liking. Some dryer products come in modern designs. But there are also dryer products that are deliberately made in classic designs and look artistic.
You can choose the design to your liking. Make sure the design you choose fits the model of your residence. You also can choose a more modern design dryer so that your residence also looks more attractive. It all depends on your tastes.
Ensure that the Capacity is as Needed
When deciding to look for a dryer, you must pay attention to the capacity offered. The size of the capacity greatly influences the daily drying activity that you do. If you use a dryer to run a business or for a large family, you can choose a dryer with a large capacity. But if you use a dryer for personal use, then the small capacity is enough.
By using a large capacity dryer, you can save time and money. That's because you can run the drying process in only one load. So that your work is completed faster and certainly more energy efficient. So make sure to choose a dryer with a capacity that suits your needs.
Ensure Easy Installation
For a new drying machine, you will need to do the installation to suit your living conditions. Therefore, you must understand correctly how to install the dryer properly. You can install it yourself if you feel you can. Make sure to prepare the tools needed so that you can install it easily.
You can also call in a professional to install the dryer. This method is safer because the engine is in the hands of experts. Usually, some companies provide free installation at the beginning of purchase or are still covered by the warranty. So you can choose products that are free of installation to further save costs.
Choosing the best dryer is sometimes quite confusing because of the large selection of products available. You can pay attention to the things mentioned above to simplify the product selection process. Do not hesitate to compare one product with another product to get the best quality. Besides, you also have to check existing customer reviews. Remember that customer reviews honestly show product quality.