Best Freestanding Gas Oven: Emilia 80cm Gas Upright Cooker DI865MVI4
Best Electric Freestanding Oven: Westinghouse 54cm Freestanding Cooker WLE525WB
Best 60cm Freestanding Oven: Emilia 60cm Gas Upright Cooker DI664MVIB4
Best 900mm Freestanding Oven: SMEG 90 cm Freestanding Cooker
Best Budget Freestanding oven: Chef 54cm Electric Upright Cooker
Best Induction Freestanding Oven: InAlto 90cm Induction Upright Cooker RU9EIB
Best Freestanding Gas Oven
Emilia 80cm Gas Upright Cooker DI865MVI4
Emilia is a gas oven specialist, made in Italy. All of its oven is equipped with 4D heat distribution technology to ensure no cold spots or variations inside the oven. Hence baking results are even, roasts are perfectly browned, no matter which shelf it is on.
Emilia gas ovens are also "Off Grid Ready". It only uses electricity 1% of what an equivalent electric oven would use. They can even operate without electricity connected.
Emilia gas oven comes in various sizes. Check here for the options
Best Electric Freestanding Oven
Westinghouse 54cm Freestanding Cooker WLE525WB
This made in Australia electric freestanding oven has an average rating of 4.6 out of 5.0 at this time of writing (source: Google). No one rated 1-star or 2-star.
The oven has an attractive price and design. Its capacity (80 litre) is bigger than most 54cm freestanding ovens. Moreover, it has a separate grilling compartment, which means you can cook even more meals at the same time.
Best 60cm Freestanding Oven
Emilia 60cm Gas Upright Cooker DI664MVIB4
There is a limited option of a 60cm freestanding cooker. Ones we found with the best customer ratings were this Emilia oven and this Westinghouse oven. However, since Westinghouse oven is more expensive even though it only has 1 oven function, we select this oven to be the Best 60cm Freestanding Oven. Emilia DI664MVIB4 has 5 oven functions: Static gas, Fan assisted gas oven, Static grill, Grill with fan assistance, and Oven light.
Emilia gas ovens are praised for their ability to heat up quickly, as well as bake and roast evenly, thanks to its 4D heat distribution system. They are also very efficient in consuming gas and electricity.
Best 900mm Freestanding Oven
SMEG 90 cm Freestanding Cooker
Smeg is the best oven brand in 202q according to Canstar Blue. It gets 5 star rating in all of the criteria: Overall Satisfaction, Cooking Performance and Reliability, Functionality & Features, Ease of Use, Ease of Cleaning, and Design.
You get all of those in this oven with 126L capacity. Smeg Thermoseal technology maintains a perfect temperature balance with a controlled cooking environment.
Moreover, the oven is fully programmable so you can set your preferred cooking program, temperature and duration. It will then activate the function, cook your meal, and turn off the heating elements when it's finished. How good is that?
It also comes with ultra-rapid dual burner for your speedy cooking.
Thanks to its vapour clean function, which generates heat and steam to soften grease, along with highly durable Ever Clean enamel, this oven is easy for cleaning.
Best Budget Freestanding oven
Chef 54cm Electric Upright Cooker
If you are looking for a budget oven that works and is durable, this oven is the answer. It has a large usable oven capacity of 73 liters. And with the enamel cooktop construction, solid hotplates, and acid-resistant oven enamel, it is easy to clean. And Chef is one of the best oven brands in Australia rated by the consumer of Canstar Blue in 2021.
Best Induction Freestanding Oven
InAlto 90cm Induction Upright Cooker RU9EIB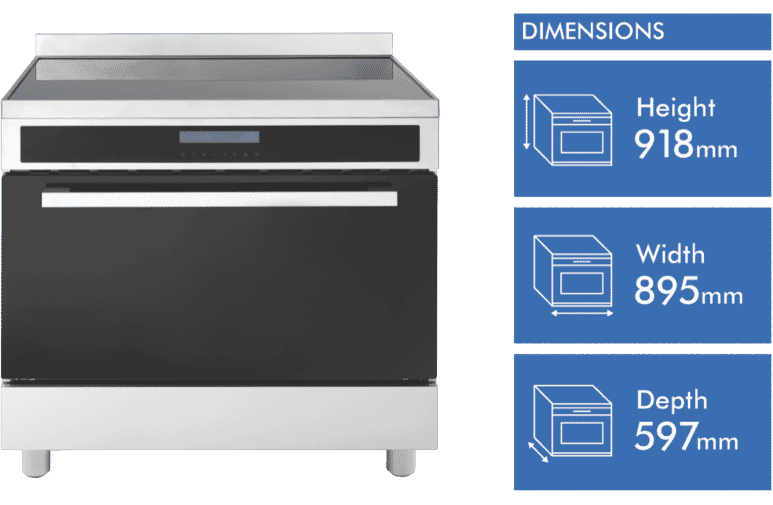 This is the best value for money induction freestanding oven. Other induction freestanding ovens are priced more than double of this oven.
InAlto EU9EIB is an electric powered oven with an induction cooktop. This oven is crafted with European made Schott Ceran glass and industry-leading safety features. It comes with 4 burners. Its 112 litre capacity oven has a comprehensive cooking function: Conventional, Fan-Forced, Grill, Fan Grill, Defrost, Fan Assist, Lower Element, Lower Element with Fan and Light.
You will get an enamelled baking tray, as well as Rotisserie accessories when you purchase this oven.
This oven is also equipped with self-cleaning catalytic liners, as well as twin fans for quick pre-heat.
According to InAlto Website, they offer 3 years manufacturer warranty for their cooking appliances.
At the time of writing this article, it has a perfect customer rating of 5 out of 5 (source: Google).
How to choose a Freestanding Oven
Oven or stove freestanding is one of the important needs for your daily cooking needs. You will consider buying this product when you want a capable kitchen. Buying a freestanding oven or stove requires proper calculation because the amount of money you have to spend is quite large.
You should be able to find products with good quality following the price you pay. What do you have to do to choose a product with good quality? Here are some things you can consider when buying a freestanding oven or stove.
Set Your Budget
The issue of cost or price becomes very sensitive for most people. Increasing human needs make people want to buy this and that item to make ends meet. You must prepare a certain amount of funds according to your ability when you want to buy a freestanding oven or stove.
The price for this kitchen equipment is usually in the high enough range for a good quality product. If you don't have enough money, you can budget it later. Just think about if you need a freestanding oven or stove really.
After establishing your heart to buy this kitchen product, you can prepare funds from now on. It doesn't matter if you don't have enough funds to buy a machine right now. You can wait for your money to accumulate and buy it later.
This is the right way so you can have a product easily without any burden. But if you want this product immediately, you might be able to choose to buy on credit. Buying on credit makes you have to prepare a monthly bill for this product. You must be able to manage your finances to buy the dream product.
Choose the Size As Needed
Oven or stove freestanding products come in several sizes that can be suited to the needs of consumers. The company issued a product with various sizes that you can have following its quality. This kitchen equipment consists of sizes 60cm, 90cm to 70-80-120-170cm width. You should be able to choose the size of the product that suits your needs and the size of your kitchen. You will not be able to choose a large size for a small kitchen, isn't it? So this size selection is the one of important points.
A 60 cm freestanding oven or stove is a common size and is widely used by many people. This machine is suitable for your kitchen which is not so wide. Although small in size, this oven can work well with four cooking functions.
Whereas a 90cm freestanding oven or stove is more popular with separate grill models, smaller main ovens and high ovens. Because of the larger size, of course, the price is more expensive. And finally, sizes 70–80–120–150cm present provides a large capacity for your cooking needs. Larger width allows you to cook in greater quantities. You can choose this extra size if you have a large kitchen.
Check the Features
Each product has the best features offered to attract the attention of the buyer. You should be able to ascertain what features you want to have when you are going to buy an oven or stove freestanding product. You should choose a product that has a cleaning feature. Products with their cleaning feature make it more convenient because you don't have to bother cleaning it. Of course, this feature makes your work more quickly completed.
A variety of oven or stove freestanding products come with the latest technology. Therefore, make sure you choose an oven that has an easy to use control feature. It is often encountered many customers who feel confused when using it because the buttons or control functions they do not understand.
You can choose products with control buttons that are easy to understand so that you can use the product more optimally. The most important feature is the safety feature. You need this feature to avoid harmful things during the cooking process. So, make sure the product you buy has this feature.
See Customer Reviews
So you can find out whether the product you are buying is quality or not, you can see customer reviews about the product you want. You can see a product has a high quality if customers give a high rating for the product. You should not forget to look at customer reviews when you buy an oven or stove. This action can help you see the performance of a product. Whatever the customers experience while using the product, you can make a role model in determining the product.
You certainly do not want to buy products that are perishable considering the price you pay is quite large. Pay attention to every bad review. You can check whether the bad complaint is a mild complaint that can be easily deal with or a major complaint.
If complaints made by customers are only minor complaints, then you can still tolerate it. But if the complaint is a serious problem, then you should choose another product. However, to be more secure, you can choose products that only have positive reviews
Choose Easy Installation
Finally, the product you choose should have an easy installation feature. You can do the installation yourself as long as possible. Installing a product that you understand can make you more economical because you don't need to call an installation.
The process of installing a freestanding oven or stove product does require special expertise because there are several that must be connected. Calling an installation repairman is the best choice because it is safer and faster.
Several companies provide free installation for your purchases. This is better because you are more cost-effective. If the company does not provide free installation, then you have to pay a special installation. For the product to function properly and safely, you must ensure the installation process if you purchase this kitchen equipment.
Buying a free oven or stove must be carefully thought out so that the money you spend matches the quality you get. Through these steps, you can choose the product correctly. Congratulations on choosing a better kitchen!