You can trust the ratings and the reviews from productreview.com.au, CHOICE, and Canstar for best fridges. But there are other fridges that are great but not deemed as the best by those 3 raters because of different criteria were used.
We are compiling the list here based on its value for money, energy rating, customer reviews, and features.
Best Bar Fridge Australia: Hisense 170l Bar Fridge HR6BF170B
Best Top Mount Fridge Australia: LG 516l Top Mount Fridge
Best Bottom Mount Fridge Australia: Fisher & Paykel 519l Bottom Mount Refrigerator
Best Side by Side Fridge Australia: Hisense 624L Side by Side Fridge
Best Value for Money French Door Fridge Australia: Haier 514L French Door Fridge
Best French Door Fridge Australia: Fisher & Paykel 614L French Door Refrigerator
Best Smart Fridge: Samsung 671L Family Hub Refrigerator
Best Family Fridge Australia: Samsung 714L French Door Refrigerator
Best Fridge for Single Person Australia: ChiQ 216L Top Mount Fridge
Quietest Fridge Australia: LG Fridges with Inverter Linear Compressor such as this one
Most Energy Efficient Fridge Australia: Hisense 453L Bottom Mount Fridge, LG 454L Bottom Mount Fridge, and other fridges listed here
Best fridge with ice maker and water dispenser: Fisher & Paykel 519L French Door Refrigerator
Best Wine Fridge Australia: Vintec Wine Fridges
Best Fridge under $2,000: Hisense 624L Side by Side Fridge
Best Fridge under $1,000: LG 441L Top Mount Fridge
Best Fridge under $500: ChiQ 216L Top Mount Fridge
Best Bar Fridge
Check Best Bar Fridge Australia 2021
Best Top Mount Refrigerator
If you have a narrow space for your fridge, and you like the freezer on top, then a top mount refrigerator would suit you. Top mount refrigerators are normally cheaper than bottom mount refrigerators.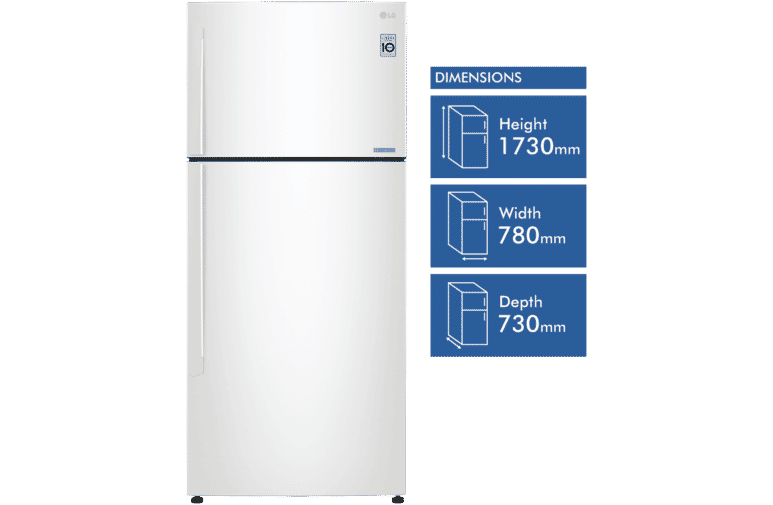 Do not judge the fridge by its cover. Although it has a classic look, this fridge is equipped with the latest technology. The LG Inverter Linear Compressor helps to maintain the quality of fresh products by reducing temperature fluctuations. The LG Inverter Linear Compressor is also quieter and more durable than other compressors. Hence LG is confident in giving 10-year parts warranty on the compressor.
It also has Door Cooling system, which cools up items stored in the door area up to 35% faster than those without Door Cooling.
With the Multi Air Flow, chilled air reaches each shelf for cooling of stored items.
It also equipped with Smart Diagnosis, where the refrigerator can "talk for itself" to find a solution to fix any issue and help to save money on unnecessary callouts.
Best of all, it has 4-star energy rating, great customer satisfaction, and an affordable price tag.
Best Bottom Mount Refrigerator
If you prefer the freezer at the bottom of the fridge so you can easily reach it, a bottom mount refrigerator would be the one for you.
Fisher & Paykel 519l Bottom Mount Refrigerator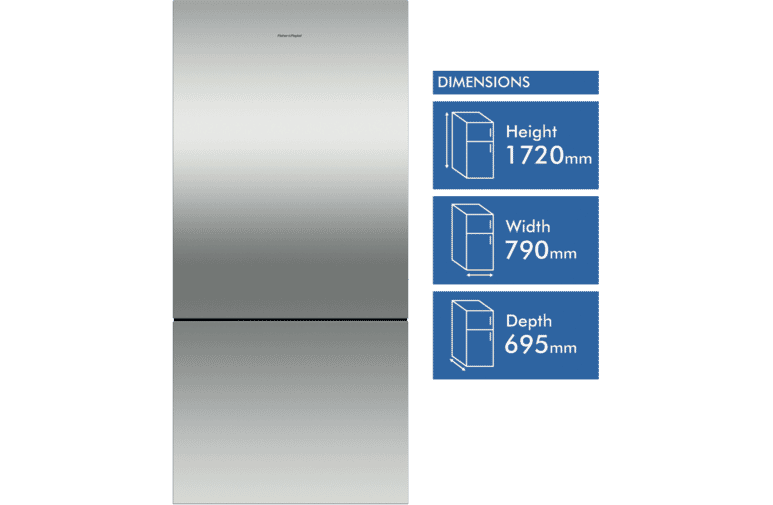 Fisher & Paykel was awarded as the Best Brand Fridge 2019 by CHOICE, because Fisher & Paykel offers ActiveSmart Foodcare technology, which monitors how you use your fridge and optimise the fridge temperature to give you fresher food for longer. It automatically adjusts the temperature, airflow and humidity inside the fridge. Their fridges are also easy to clean and to use.
The majority of its refrigerators have the fridge sits above the freezer, so you can reach things you need most of the time (including vegetables and fruits) without having to bend down.
You can be more organised at storing foods in the freezer, with its assorted freezer compartments.
There is a SmartTouch control panel at the front of the fridge, so you can easily choose the temperature. It even has a function such as 'Bottle Chill' to so that you can enjoy an ice cold drink from the freezer.
With positive customer reviews and such features, Fisher & Paykel 519L is a best-selling bottom mount fridge.
Best French Door Refrigerator
For this criteria we do not include smart fridges. Click for Best smart fridge
Fisher & Paykel 614L French Door Refrigerator
If you are looking for a bigger fridge from a more reputable brand, this french door fridge might suit you. Fisher & Paykel has been awarded as the best brand fridges by CHOICE 2019.
We believe that this is the best value for money fridge from Fisher & Paykel. With under $2500 you can enjoy this fridge with 181L freezer capacity and 433L fridge capacity. It is also energy efficient, with 3.5 star energy rating.
However, it does not have an ice maker & water dispenser. With an extra cost of $300, you can have one with this fridge.
Best Value for Money French Fridge:
This is a great value-for-money fridge. With under $1500, you can buy this sophisticated fridge with non-plumbed water dispenser and external temperature control with LED display, so you will not need to open the door and have the cool air escape. You can also set different temperature amongst MyZone compartment: 'Beverage Cooling' to keep carbonated drinks well-chilled, 'Meat & Poultry', or 'Seafood'.
It is also one of the very few french door fridges with 4-star energy rating. Unfortunately, there is no french door fridge yet with a 5-star energy rating.
The majority of purchasers were happy with their purchase. At the time of writing this article, 96% of purchasers recommended this fridge. Only 2 rated 1 star and none rated 2 stars, because of the disappointment with Haier's after-sales support.
Best Smart Fridge in Australia
Samsung 671L Family Hub Refrigerator
Would you like to see what you have in the fridge when you are doing your grocery shopping, or without opening the door?
Or a reminder which ones expired, or due to expire near soon?
How about looking at the calendar on the fridge, without needing to worry finding a new calendar every year?
Or leave a memo for your kids or partner, without risking of losing it?
With this smart fridge, you can do all of the above. You can also listen to the music, watch videos, order groceries online, and get unlimited access of recipes, using this fridge.
It has a customer rating of 4.0 out of 5.0 according to Google.
You can choose 825L one if you need a bigger storage space.
Best Fridge for Family and for Entertaining
Samsung 714L French Door Refrigerator
If you are looking for a fridge that fits a lot without spending much on fancy features, then this fridge is the one for you. This is one of the lowest price fridges with a capacity of over 700l.
You will be hardly run out of storage space with this french door refrigerator. You can choose to have bigger fridge space or freezer space. The bottom-right 4th door can be changed to freezer with four different temperatures at the touch of a button.
It also has tri-fold shelves for large or tall items.
Majority of purchasers were happy with this family fridge. It has a rating of 4.7 out of 5 according to Google.
No wonder it is a best-selling family fridge.
Best Refrigerator for Single Person Australia:
If you are looking for a working fridge with a freezer to store your foods and drinks, this fridge would be perfect. No need to pay extra for the feature you don't need. It only costs under $500. And with 3.5 star energy rating, you can save even more on electricity bills.
Best Fridge with Ice Maker and Water Dispenser Australia
Fisher & Paykel 519L French Door Refrigerator
Best Fridge with Ice Maker and Water Dispenser
It has a dedicated freezer bin, where you will always find fresh ice. If you turn it off to free up freezer space, you can boost ice production by up to 30%.
The slimline dispenser makes it easy to fill almost any sized jug or vessel with cool filtered water and doesn't take up any storage space in your fridge.
How to choose a refrigerator
Refrigerators become a cooling machine that can not be separated from human life today. Almost everyone has a reliable refrigerator product at home to fulfill their daily needs. The number of refrigerator products available allows you to choose the refrigerator that suits you best. To be able to buy a refrigerator that fits your expectations, you should pay attention to several things related to the product. Here are some ways you can apply when choosing the best refrigerator.
Adjust The Size With The Kitchen
The first thing you should do when buying a fridge is to adjust the size. You can think of buying a fridge in small or large sizes. Fridge with a small size is perfect for your mini kitchen. But if you have a big kitchen, a fridge with a large size is more suitable for you.
The amount of usage also affects the size of the fridge that you will buy. The small-sized fridge certainly fits your needs that use a little fridge. But for more usage like in an office or restaurant, you can choose a large size fridge. The medium size is perfect for those of you who are married. With a medium size, you can use the fridge according to the needs that are not too much.
You can also determine the size by counting the number of family members. Most fridges come in sizes from 18-24 cubic feet that are suitable for small or medium-sized families. But if you live with a large family, then you need a fridge with a size of at least 26 cubic feet. So make sure to always adjust the fridge capacity to the estimated amount of food supplies stored and also measure the kitchen part that will be used for the fridge.
Determine the Design
A design that looks more modern and minimalist is a favorite choice at this time. Most people choose a fridge that looks sleeker and elegant. You can choose a fridge with a one-door or two-door design. Wide shelf and drawer designs are a plus for a fridge offered. You can choose the model fridge with wide shelves and drawers so that the fruits and vegetables that you have been kept awake and easy to take because it is at eye level.
Fridge with a classic design you can also choose if you want to be more frugal and crave a more pleasant kitchen atmosphere. For those of you who want a more modern and artistic look, you can choose a fridge with the latest model that is larger. The shape of a large fridge but still sleek is the best choice for your current kitchen.
A top-freezer refrigerator design is a right choice if you want a basic, economical choice because this type is cheaper than others. You can also choose a bottom-freezer refrigerator if you want your refrigerator shelves to be easier to see and reach. Bottom-freezer refrigerators usually have one or two doors of French style at a more expensive price. The model side-by-side refrigerator is perfect for those of you who have a narrow space in the kitchen. You can consider the built-in refrigerator model if you want a sleek look. For those of you who don't have room for a full-size fridge, you can choose a compact refrigerator model that is suitable for use in bedrooms, dormitories to private offices.
Always Check the Features Offered
Different brands also have different advantages from the features offered. A product usually has superior features offered to consumers. You can check what features are given in a fridge unit that you will buy. The adjustable shelf and trash can feature will make your fridge more flexible. Special drawer features such as for wine or canned drinks so you can adjust the fridge more easily.
Make sure to choose a fridge with a separate temperature and humidity control feature so that you can store different foods with better conditions. You can choose the fridge with the water and ice dispenser feature if you need this.
First and foremost, you must successfully find a fridge with the energy star feature. A cooling machine that has an energy star feature is a machine that uses 40% less energy compared to other cooling machines. You can save more money and also preserve the environment by choosing a fridge with an energy star.
Check Customer Reviews
Every company always claims to provide the best quality in every product. You can check the truth of this claim through the reviews of customers who have felt how to use the product. Therefore, you should take the time to see the many customer reviews that are scattered on the internet. Reviews given by customers are always based on the experience they felt during the use of the product.
You can see whether the product you want is of good quality through this method. Avoid buying products that have a lot of complaints from customers despite offering a guarantee of warranty in a long time. Especially if the complaint is not handled properly by the company, then you have to say no to the product. Make sure to choose products from companies that have friendly customer service.
Adjust the Budget
Finally, make sure you choose the fridge product that suits your budget. Buying a fridge requires careful consideration because the cost involved is not small. You must think carefully about the suitability of the product at the price you pay. Don't buy products that are too expensive for mediocre functions. Even if the product is cheap, you don't need to buy it.
Cheap products with poor quality will add to your expenses. Why is that? Poor quality products certainly make you have to pay additional costs for repairs. Of course, this will only waste your money. So always make sure to choose a quality product according to the price offered.
When you have several choices for a fridge product, you can immediately come to a trusted purchasing place. By coming directly to the store, you can compare several products and try to experience the products offered directly. After that, you can determine which fridge is best for you.
Check: Quietest Fridge