You won't need the buy the best oven with the features you don't need. That's why we compiled the list of Best Wall Ovens in Australia here based on the Value for Money and Customer Reviews.
Best Electric Oven: Chef 60cm Electric Oven
Best Gas Oven: Emilia 60cm Gas Oven
Best Pyrolytic Oven: Bosch 60cm Pyrolytic Oven 
Best Steam Oven: Electrolux 60cm Single Electric Oven
Best Electric Oven
This was a tough choice between Chef 60cm oven or Technika oven. Technika has a bigger capacity of 83 liters (whereas this Chef 60cm electric oven has 80 liters) and more oven functions.
However, this Chef 60cm electric oven has an excellent customer rating. According to Google which summarises all the reviews on the internet, its average rating is 4.7 out of 5.0. No one rated 1 star, unlike the Technika oven.
If you are looking for a simple and affordable electric oven that heats up quickly and evenly, this oven is strongly recommended. It has 3 cooking functions: Fan Forced Cooking, Grill, and Defrost. It also comes with a wire grill insert.
Best Gas Oven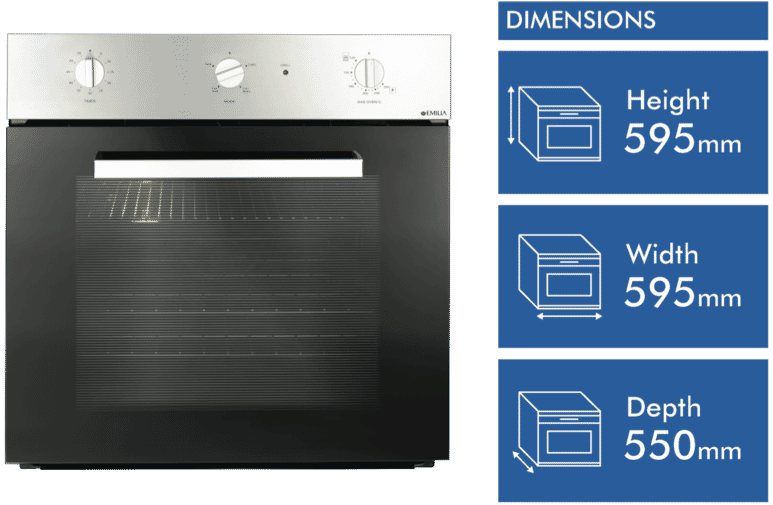 Emilia is the gas oven specialist. With the 4D heat distribution technology, it evenly bakes your dish. Its temperature control is exceptional.
It is also very energy efficient. Emilia gas oven can be operated even when there is no electricity.
Best Pyrolytic Oven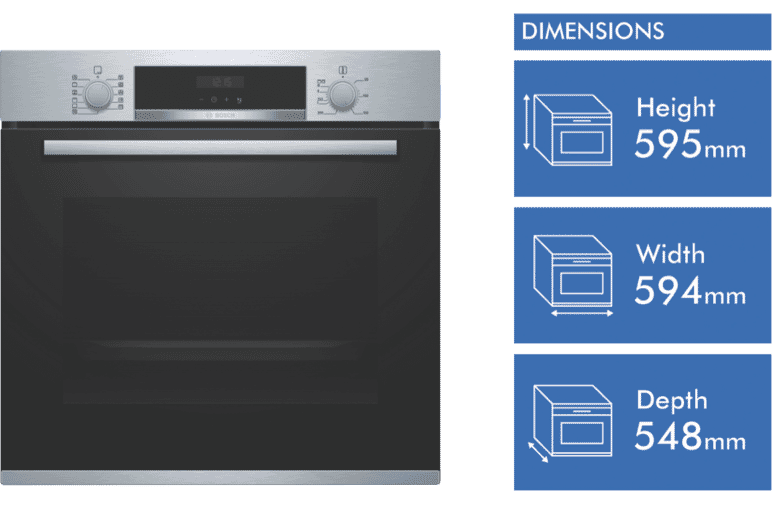 The self-cleaning feature in this Bosch pyrolytic oven heats up the oven up to 480 degrees Celcius for a thorough clean. There are 3 different cleaning programs to choose from. All the soils will turn into a thin layer of ash, which will be easy to wipe. No need to use any chemical cleaning agent.
This made-in-Germany oven is also equipped with 3D Hot Air Function to provide even hot air across the oven. So no matter which shelf you put the dish on, it will still be baked evenly.
Best of all, this oven has an autopilot feature, which automatically prepares the dish as how you want it. You can set up to 10 pre-set automatic programs. No wonder purchasers gave it an average rating of 4.8 out of 5.0 (source: Google).
How To Choose A Wall Oven
How to choose a built-in oven for you? An oven is a household appliance that is widely used for cooking purposes. More advanced than traditional ovens, now there is a built-in oven that comes with a variety of functions to meet your needs. Then what is the best way to choose the right built-in oven? Here are some tips that you can try when buying a built-in oven.
1. Adjust the Oven Size
There are several sizes of built-in ovens that you can choose from. You can choose the oven size according to the width of your kitchen. Make sure to measure the width of the container you will place the oven on before you go out to buy it.
The measurements you take can make it easier for you to choose the size when you buy it. This can also prevent you from occurring too big or small ovens from the kitchen which are usually experienced by buyers. Also, make sure to leave the oven at a distance from the kitchen wall to make the installation process easier.
2. Select Oven Cleaning Features As Needed
There are many different methods for cleaning the built-in oven. You can choose traditional cleaning models, catalytic, pyrolytic or steam water for the cleanliness of your oven. Each cleaning model is certainly different.
You should choose the steam cleaning method which is currently so popular because it is simple, economical and effective. Make sure to keep the oven clean so that it doesn't damage or wear out quickly.
3. Caution Control System
The built-in oven has a more modern control system than traditional ovens. Usually, the control system used is a touch screen button that can function automatically. You can choose a modern control system for your built-in oven for a better experience.
The presence of a control function using this touch screen will make your cooking process much faster and easier. Each of these control buttons has a variety of functions that vary according to what the provider company offers.
4. Oven Equipment
Usually, the oven that you buy is equipped with several other types of equipment that can complement your cooking function. There are trays, toaster stones, glass doors to trays that are usually provided by ovens to help you run your cooking activities. You can choose an oven that offers equipment that suits your needs.
5. Adjust Prices and Guarantee
To buy an oven, always make sure to check the price offered. You can buy a built-in oven at a price that suits your abilities. After you choose an oven that fits your original budget, you should also check the warranty provided. Always make sure to choose an oven with a warranty period that is long enough so that any problems can be resolved quickly.
When choosing a built-in oven, you must always pay attention to this so that your choice is not wrong. So how to choose a built-in oven for your purposes? Make sure to apply these tips. You will find the best oven which is suitable for you with those tips.