Teka is an Australian brand that specializes in catering to your kitchen needs. Teka tries to make your kitchen a place to create unforgettable moments. This company brings products that present solutions and innovations so that you can more easily cook. This brand which was born in Germany has high quality. With its existence for almost 100 years, Teka's products always prioritize satisfying customer service.
Teka 60cm Multifunction Oven HSB 575
This product has positive reviews from customers. The three-year warranty support is favored by customers because the company serves customers very well. Modern features designed with stainless steel make this oven have a charming appearance.
With a capacity of up to 80 liters, this oven comes with six cooking functions such as fan-forced mode, grill, maxi grill, maxi grill and fan, environmentally friendly mode and melting ice. Customers really like the easy way to use this oven. The technology and quality that is presented is very satisfying the customer. This product is suitable for your family or your home.
Teka 60cm Multifunction Oven HLB 850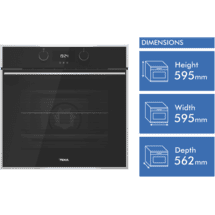 This oven comes with a capacity of 80 liters. The design that uses full control of the touch screen makes this oven look so charming. You can clean this oven easily because it is equipped with a Hydroclean cleaning system. Customers like the presence of nine cooking functions such as fan-forced, maxi grill, roast, bottom heat (Pastry), grill, grill + bottom (Roast), melting Ice to pizza.
All cooking functions are considered to facilitate the cooking process of the customers. In addition, customers also like the oven system which has an environmentally friendly mode. Coupled with Chromed support w. telescopic guide, you will feel how it feels to cook with sophisticated tools. Any customer complaints will be served properly through a three-year warranty that is presented.
Teka 60cm Multifunction Oven HLB 860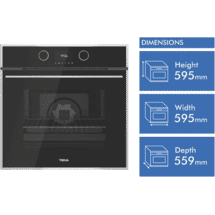 This product is liked by many customers. The stainless steel design used makes this product look classy and beautiful. Customers like the oven's easy use and cleaning method. For digital thermostats that can be set with a temperature of 30-270 ° C. The personal assistant with 20 recipes make this oven look modern and very loved by customers.
You will feel the sensation of cooking with classy equipment but the price is still affordable through this product. You will find nine functions such as Fan-Forced, Fan-Forced + Bottom Heat, Bake Fan, Bake, Bottom Heat (Pastry), Grill, Maxi Grill, Maxi Grill + Fan, Grill + Bottom (Roast), Defrost.
This oven has an environmentally friendly mode so many people feel interested in using this product. The warranty is presented in a long time for three years, making customers always give positive reviews for this product.
Teka 60cm Pyrolytic Oven HLB 840P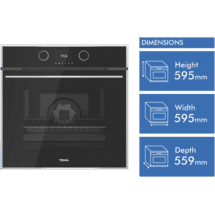 Products with a capacity of 71 liters are widely used by customers for personal use. DualClean cleaning system features: Pyrolytic + Teka HydroCleanPRO is one of the features that customers like because it is very easy to use and also easier to clean. In fact, you can also save energy by more or less up to 20%.
Touch technology Control with an electronic timer that is used is considered to be more modern and up to date. In addition, faster heating will make you save more energy and time.
Teka 60cm Pyrolytic Oven HLB 860P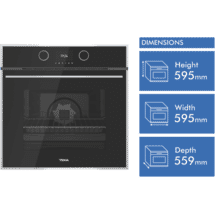 Stainless steel finger proof really makes this oven design look very classy. The 80 liter capacity that this product presents makes it suitable for personal or public use. Like other customers, you will love this easy-to-use, easy-to-cook cooking product.
Programmable clock timers certainly make the dishes you cook faster and avoid the other problems. You will experience how to cook with modern technology through this oven. Customers always say that this oven is highly recommended. Based on their experience, this oven is also environmentally friendly and durable in use for a long time.
Teka 90cm Multifunction Oven HLF 940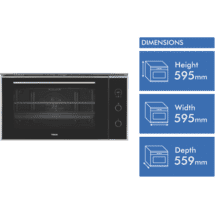 This one oven product is suitable for larger needs because it has a capacity of 91 liters. The three-year warranty that is presented makes this product loved by customers because customer service always serves kindly.
You can clean this oven very easily because the Hydroclean PRO cleaning system is more sophisticated than other products. This oven is designed with stainless steel so it is very durable in use. There is also support for Chromed w. 1 + 1 full extension telescopic guide that makes this oven look very sophisticated and modern. With nine cooking functions presented, customers say that they like this oven because it can cook various types of dishes.
Teka 60cm Compact Pyrolytic Oven HLC 860P
This one Teka Oven is more suitable for personal use because it only has a capacity of 45 liters. If you need an oven to use in restaurants or cafes, then you need an oven with a larger capacity. Even so, this oven gets a lot of positive reviews from customers. Very easy to use and modern technology used makes this oven worth having.
With stainless steel, this oven has a design that looks attractive. There are also many cooking functions that are served up to sixteen functions. This certainly makes many people like to use this product for a variety of foods. If a problem occurs, customer service always responds quickly. So the three-year warranty provided is very pleasant for customers.
Teka 60cm Combi Microwave Oven HLC 847C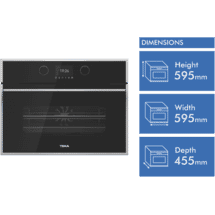 Although 41 liters is a measure of small capacity, this one Teka oven remains to be excellent. This oven is very suitable for personal use because of its size which can only be used for smaller food portions. Even so, customers still feel satisfied with this oven.
The presence of sixteen cooking functions in this oven will make you able to cook very easily. Touch controls system used makes this oven look more modern and up to date. Like other customers, you will find advanced technology and the best quality in this product.