Vintec is a leading brand for wine cellars in Australia, New Zealand and Asia Pacific.
Vintec brand was made in 2000 by two wine-lover Frenchmen, in collaboration with the Danish designers and manufacturers to produce a range of stylish, functional, and accessible wine preservation systems.
Then in 2016, it was acquired by the Electrolux group. Electrolux then formed a specialised wine division in 2017, and created more wine storage products.
What Distinguishes Vintec with others
There is no other brand specialising in wine storage like Vintec.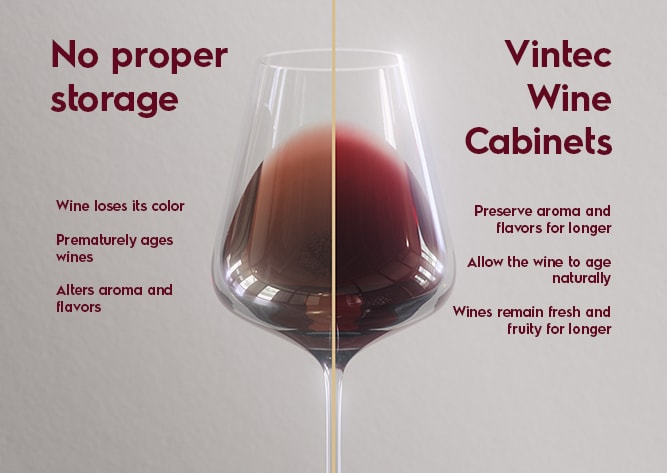 Vintec focuses on these 5 pillars for its wine storage:
Stable temperature
Humidity above 50%
UV-Proof Dark Storage area
Vibration-proof environment
Quality airflow
If you are a true wine lover, by having a Vintec wine cellar, wine cabinet or beverage centre, you can join The Vintec Club. It is a private club where members can attend private tastings and wine & food experiences in Australia and around the world. You will be also offered exclusive wine offers as well as access to expert advice on collecting, cellaring, and serving exceptional local and international wines. Other brands that offer wine fridges do not offer such privilege.
Vintec 35 Bottle Wine Cellar VWS035SBA-X
Pros:
The style allows maximum maturation of the wine. The black finishing adds its charm as it complements any room background interior. It allows for approximately 35 bottles of Bordeaux.
Buyers can also enjoy the single temperature zone, in which it is perfect for fuss-free and at-ease storage. Its anti-UV glass can provide maximum preservation for owners' wine bottles. This series also has an excellent external compressor for reducing the vibration. Without any doubt, every sip of the wine remains delightful until the last pour.
It also has an internal LED lighting with the adjustable wooden shelves. Users can set the temperature from 6 – 18 degrees Celsius. This wine fridge is perfect to be placed as the display in the living room, thanks to its overall finishing. But, it is also good to be placed beside the kitchen cabinetry. It is important to make sure that the wine fridge is in the room with good ventilation. 
Cons:
Many purchasers complain about its ability to hold the temperature after 2 years of use
The bottom shelf can only be used to store smaller bottles because of the motor compartment takes the space
Vintec 170 Bottle Wine Cellar V190SG2E-BKLH or V190SG2E-BK
The difference between V190SG2E-BKLH and V190SG2E-BK is the side of the door hinge. If you want to open the door from right side, then choose V190SG2E-BK. If you want to open the door from left side, then V190SG2E-BKLH is the one.
Pros:
Can fit up to 198 bottles (on 8 adjustable shelves)
Multi-temp technology, to serve different varietals at their perfect individual drinking temperatures
With winter heating function to deliver a constant temperature, even in winter
Double glazed door with anti UV glass
Audio and visual alarm
Cons:
Expensive
May need some repair after use of few years, and the repair is costly
Things to Consider when Choosing a Wine Fridge
Truly, there are some considerations that buyers need to know. The first one is capacity. It is important as buyers need to acknowledge the capacity that they need for storing their wine collection. For those with a limited budget, they still can buy the bigger capacity fridge with various prices. 
Buyers also need to pay attention to the shelves on the wine fridge. There are sliding and roller mounted sliding shelves for various bottle sizes. Before buying a wine fridge, it is very important to make sure that it has the right kind of shelves for buyers' wine bottles.
Sliding shelves are the perfect ones for wines that buyers plan to drink in shorter terms because such shelves allow users to get access to each bottle. So far, Vintec remains as the most favorite manufacturer, thanks to its high-quality wine storage features and excellent prices.
Also check: Best Fridges in Australia